This is all mine.
Shut your mouths.
EXPANSIONS:
name/series/sprites made by/game appeareances/progress
Arthur/astral justice(my own series)/me/no game yet/not much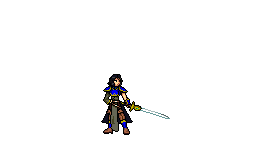 here's my character Burnard, he's a versatile fighter since he's able to fight in short ald long ranges, he has a high jump lenght and average recovery, his attacks does good damage but low knockback, his strategies relies on the using of his short and long range attacks
need help to decide which suit i should sprite for the expansion
Fucktard/the X series and astral justice/my cousin carl/no game yet/some
fucktard, a custom made character by my cousin using sprites of mine as base, really not the most smooth animations but a great brawler
he's a hunter who uses the bow with great skill, he also controls water and it's derivates, his long range abilities will bring you to the edge in a short time
well, this is the most progressed expansion but not the best animated one, so any critiques would appreciate to be nicely
Ike/fire emblem series/i/path of radiance, radiant dawn,SSB Brawl/just confirmed
you like it, you'll have it, the mercenary comes to SSF2 to brawl even more
not much difference from Brawl's ike >_>
Black knight/fire emblem series/zilch/path of radiance,radiant dawn/requested so far
there he is, it's burger ki... ahem black knight, he's yet agan not dead ready to prove his sword as the most worthy, beware your Ikes
he's gona be a very stiff character, he wont be able to crouch nor jump high but his damage resistance and high knockback makes him a tank, he's fast at the time of dealing attacks but his movement speed is not his speciality, also if he falls he might not be able to return to land, in resume a hard character
Mia/fire emblem series/myself/path of radiance, radiant dawn/not much
she traveled an entire continent to find some brawlers, and she found the brawl, beware of the lady of blades
a fast and deadly character, but very unstable, she can make knockbacks as often as she recieves them, her jump and running abilities are considerably high and has a lot of counters but only works depending on the attacks, much as like marth.
expansions i would make:
hector/casttlevania curse of darkness
isaac/castlevania curse of darkness
leon belmont/castlevania lament of innocence
peppy hare/starfox series
seto kaiba/yu-gi-oh deries
expansions requests
you tell me!.
ANIMATION/SPRITING FUNCASE:here you will see my watchworth works
an animation containing my characters and some random characters i sprited for fun or whatever
here's the play screen of my game(not done by the way)
some pics i made of how my game(which i have'nt made yet) looks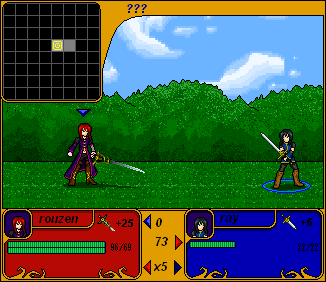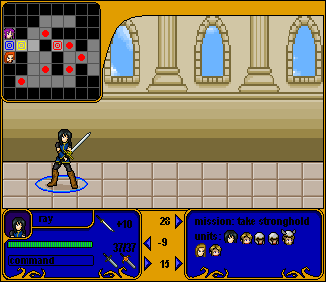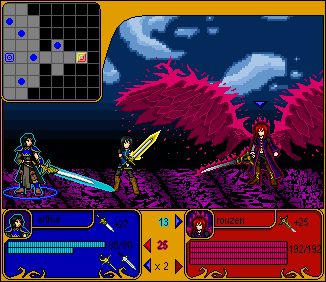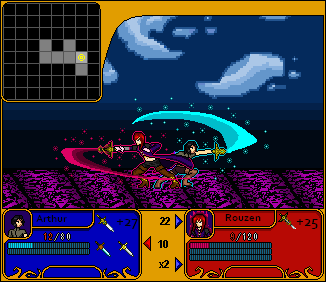 an animation containing a desert scene with dunes, and a wide map
PREPARE YOURSELVES FOR THE STRETCHING!!
THE LIST OF ALL MY CHARACTERS, INCLUDES MOST OF CLASSES AND CHARACTERS
and the classes and their brief descriptions.

swordsmans(blader): a high rate swordfighter that can brandish any kind of blade regardless its size or weight, this class relies both on strenght and skill, its weaknesses may be dodges with not much speed and low defend capabilities

Dreadedges(bladers):stealth swordfighters that relies on agility as main source, they fight with a silent grace and are most feared among warriors
Royalblades(bladers/fencers):a legend among swordplay, these long forgotten warriors were feared by anyone due to their skill to avoid and block attacks, they can break any steel with their weapons and has virtually no weakness among human capabilities, few can learn this style

musketers(fencers):royal knights who holds swords to protect their beliefs, they are very agile and quick but their strength is their flaw, their attacks has a high rate sucess but deals low damage

commanders(knight):high rank warriors whose loyalty is solid as their armor, experts on melee fighting with spear, they are all-around fighters with balanced status and average high defence

sentries(knights/fencers):masters of breaking trough, these hard coated warriors posseses the highest defense value on battlefields, they are fairly slow of course, has enormous power with a big shield
verdugos(warriors):deadliest soldiers whose attacks with axe can shred mountains, they're as well skilled in crafting, they have the highest strenght value but lowest agiliy on each attack

barbarians(warriors/fighters):furious warriors who brandishes only the heaviest, their attacks are strong and are fast but having low protection makes them vulnerable as well

hunters(bowmens):long distance fighters with master aiming, they are very helful on battlefields but they lack of melee abilities so they attack from high-far places

freeshooters(bowmens):astonishing bowmens with enough strenght to deal short range combat woth a bow, amazing instincts and a fine aim, very versatile
assasins(bandits):stealthmost fighters with killer instinct, hey hold no mercy nor hesitation. they can kill easily any slow warrior

spies(bandits):a spy knows more that he says, these spies to more that they show, they gather information at any cost and are self-dependant, they can fight very well and are most untouchable

champions(fighters): brawlers who breathes battlefields, they are well prepared fighters with training on any weapon and circumstance
hex-casters(wizard):magical warriors that as well as attacking with spells they also can fortify and weaken other warriors, their skill is innate so few mages can really possess this ability

necromancers(wizard):witch folk whose magic can return the dead to new life, they canalize their energy to materialize the souls they catch, they were once hunted by religious reasons

wiseman(wizard):true masters of magic, their spells are fortified by astral forces. they are natural geniuses


Dukes(any first class):few of the noble people with innate skill on fight and tactics, those warriors are very powerful and can wield any kind of weapon, not many reach this level but those who achieve it bbecomes superrb fighters.

masters(hero class)ultimate fighters with skill on the sword, their attacks varies from other swordplays, they also harness massive charges of astral energy, they are probably the strongest class due to their high yet balanced stats
Cuntnuggets.